Usher and Alicia Keys 'Caught Up' In 'Song-Jacking' Lawsuit By Songwriter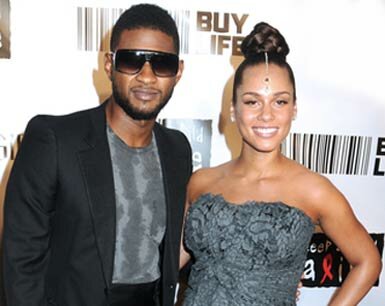 R&B singer and dancer Usher and singer/music producer Alicia Keys are facing a lawsuit over song plagiarism filed by Wadena Pyatt and Bang Hitz Publishing in New York. The two music artists are listed in the lawsuit for allegedly song-jacking a songwriter who was a former artist on Alicia Keys' MBK Entertainment Label.

According to the lawsuit filed November 19th, Wadena Pyatt, who is being represented by Antonietta Maria Monaco of Monaco & Monaco, LLP., claims that a party version of the song "Caught Up" was written by her in 2002 and she was signed to the label in 2003. Pyatt was expected to use the song on a debut album.
Pyatt is seeking damages and profit from the single which appeared on Usher's 2004 album "Confessions." The song on the album is listed to have been produced by Dre & Vidal and written by Ryan Toby, Andre Harris, Vidal Davis and Jason Boyd. The album "Confessions" sold over 10 million copies in the US and was certified diamond by the RIAA.
In 2005, Wadena Pyatt filed a lawsuit against rapper, singer and producer Wyclef Jean, but the suit was dismissed.
Those listed in the new copyright infringement lawsuit include: Usher Raymond IV, Alicia Augello Cook, Krucial Keys, Inc., Jeffrey Robinson, MBK Entertainment, Inc., SONY BMG Management Co. LLC, Sony Music Entertainment Digital, LLC, Zomba Recording LLC, Arista Records, Inc., La Face Records, Inc., EMI Music Publishing, Inc., Jermaine Dupre Mauldin, Maurice Ryan Toby, Andre Harris, Vidal Davis, Jason Boyd, EMI April Music, Inc., Pladis Music, Inc., C. Sills Publishing, Inc., Hitco Music Publishing LLC, Dirty Dre Music/Universal Publishing Inc., Double OH Eight Music/Universal Publishing, Inc., Poo BZ Publishing, Inc., SONY BMG, Sony Music Entertainment, Inc., Sony/ATV Tunes, LLC and Sony/ATV Music Publishing, LLC.
Watch: Usher – Caught Up [HQ] Music Video