Taylor Swift, Soon To Be 21, Get's 'Warmed Up' To 50 Cent!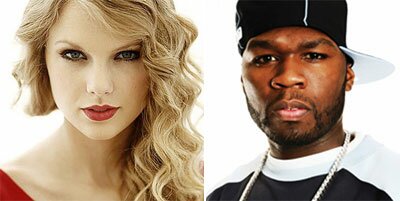 Taylor Swift appeared on the late night talk show Chelsea Lately with Chelsea Handler and the very soon to be 21 years old revealed more than the fact that she is a fan of rapper, G-Unit head 50 Cent — Taylor revealed she actually warms up to 50 Cent.

Actually, Swift says that her and 'all [the] girls' referring to her back-ups would be all in one room and warm up to 50 Cent's music.
Chelsea, when she heard the news, jokingly says it's quite a coincidence that Taylor "warms up" to 50 Cent's music because Chelsea stated she too had "warmed up" to 50 Cent – keep in mind, Chelsea Handler has been rumored to have been dating 50 Cent, as covered on HipHopRX.com.
Taylor Swift even revealed that she knows the lyrics to many of 50 Cent's rap songs, stating Chelsea "would be surprised how many lyrics" she knows.
Later in the interview, Swift also revealed what it's going to be like being able to go to the 21 and up events with her friends since she's turning 21 years old in December and how excited she is to have such great fans — and that she does — as Swift's fans helped the pop diva to sell 1,047,000 copies of her third album Speak Now, in the first week alone. This put Taylor second only to none other than 50 Cent who's sophomore album The Massacre sold 1,141,000 copies its first week in 2005.
Check out the video interview with Taylor Swift and Chelsea Handler on the talk show Chelsea Lately talking about "warming up" to 50 Cent: