Susan Boyle Making A List, Rihanna Is On It! Album Download No 1 Until Kanye?!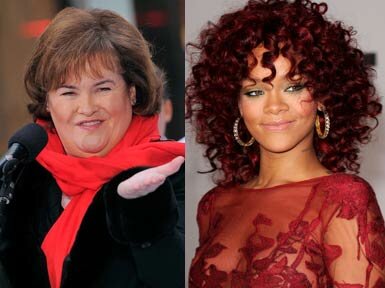 The chart topping Scottish singer Susan Boyle who got her big break on Britain's Got Talent and who later took over the charts worldwide with her album 'I Dreamed a Dream,' has a wish on her wishlist — and that's to do a collaboration song with the Pop star and singer Rihanna.

According to The Sun, Susan Boyle is a big big fan of Rihanna and hopes to test her R&B skills with Rihanna.
Susan Boyle stated, that there are types of music that a person is good at and then there are certain types that you are not good at. Susan Boyle asked, "I mean, would I be good at R&B?"
There's only one way to find out, and that a duet with one of the artists she has on her list like Rihanna.
In addition to Rihanna, Susan Boyle hopes to one day also do a duet with Beatles Paul McCartney.
In other news, Susan Boyle recently released her second studio album "The Gift" which was released on November 9, 2010. Susan Boyle's album 'The Gift' debuted at No. 1 on the nation's album sales chart, selling 318,000 copies in the week ending Nov. 14. and has reigned for two weeks, expected to drop beneath No. 1 following next week's publishing of rap artist Nicki Minaj's "Pink Friday" projected first week sales of 375,000 to 425,000 which may follow behind Kanye West's fifth studio album, "My Beautiful Dark Twisted Fantasy," is expected to top the charts selling in between 525,000 and 575,000 copies its first week, as reportedm on HipHopRx.com.