Soulja Boy Releases New Hip Hop Music Premiere For 'Speakers Going Hammer'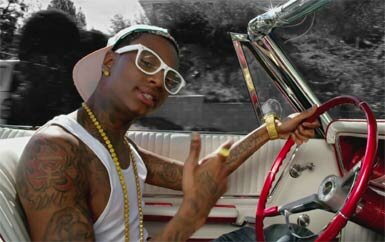 As Soulja Boy prepares for the release of his third studio album 'The DeAndre Way,' the hip hop artist, rapper and businessman has released the music video for his new rap single 'Speakers Going Hammer.'

The music video starts off in a quiet suburban neighborhood with a setting on the level of 'Leave It To Beaver' in black in white. The only color at this point is Soulja Boy and his entourage who arrive in tricked out rides with hot women. It's obvious that the music colors the neighborhood as Soulja Boy raps that he wakes up early in the morning, round the crack of dawn and wave to his neighbors like "what's up!" In the next verse of the rap song, the rapper describes his speakers as outer space and how deep his entourage is.
"….my speakers outerspace like ET/cops watch me all day like TV/SOD hit the club we be so deep/mane I'm deep in the game like an O.G."
The video leads off to a pool party at his house where the women dance around in bikinis and the older women bring over pies welcoming him to the neighborhood, followed by frat boys and older men.
Since the release of the single, Soulja Boy has appeared on The Tonight Show with Jay Leno as well as the BET Hip Hop Awards, amongst others.
Check out Soulja Boy in the new official music video premiere for "Speakers Going Hammer."