Nicki Minaj Dreams About 'Doing It' With Jay-Z's Wife Beyonce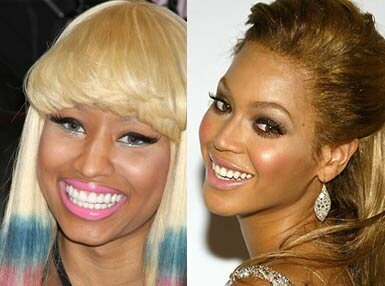 Nicki Minaj who has been in the headlines for Rihanna grabbing her booty to her Lil Kim diss has revealed a deep desire — to do something with Beyonce Knowles.

According to USMagazine, Nicki Minaj born Onika Miraj stated that she would like to probably "work" with Beyoncé right now. The female rapper went on to list the names of the ones who were on her top list that she has worked with which included the names of Jay-Z, Eminem, Kanye West and Rihanna.
Nicki Minaj says she's "really, really" excited about Beyonce and that she's about the only one on her list that she hasn't worked with. Imagine a "Nicki Minaj and Beyonce duet."
Meanwhile, Nicki Minaj's special MTV documentary "My Time Now" airs tonight, Sunday, November 28, at 10 p.m. ET/PT, 12AM CST. The documentary shows Nicki Minaj in another light and who the Trinandad born Onika Miraj is. During the documentary Nicki Minaj was filmed for over three months by MTV who caputured her travel for the first time in 7 years to Trinidad.
In the world of hip hop, many are awaiting a response back from Nicki Minaj after Lil Kim caused quite an uproar when she responded back to Nicki Minaj with a raw & uncut diss song called "Black Friday" which mocked Nicki Minaj's debut album "Pink Friday." The Queen Bee, Lil Kim, called Nicki Minaj a gimmick, trash and a bunch of other things, as reported on HipHopRx.com.