Dolly Parton Says Miley Cyrus Is Enticed To Act 'Trashy,' Applauds Taylor Swift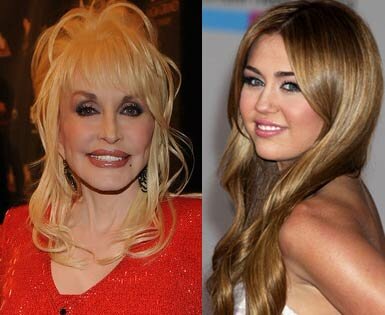 Nashville country music legend Dolly Parton chimed in on her raunchy and controversial goddaughter Miley Cyrus who's most known for playing the role Hannah Montana on Disney during an interview with Larry King Live. The country-music star admitted that Miley Cyrus is trying to get out of the bubble of being Hannah Montana and grow-up and spoke about the pressure that young girls are going through and trashy ways they feel they must adapt inorder to get accepted.

When Larry King mentioned Miley's raunchy dancing and clothes, Dolly Parton said hopefully that Miley Cyrus didn't get it from her and she didn't approve of her over-the-top stage performances.
The music legend said she doesn't know if Miley is surrounding herself around people that will help her make wise decisions, but her answers regarding country music star Taylor Swift were somewhat the opposite. In fact, Dolly Parton says Taylor Swift has a good head on her shoulders and seems to be surrounding herself around the right people.
Maybe this is a sign that Miley Cyrus needs to take notes from Taylor Swift.
As for being a rebillous teen, Dolly Parton recalled herself not wanting people to give her advice and wanting just the information and just to be left alone to do her own thing. So if Miley Cyrus wants help, Dolly Parton says her honorary goddaughter can come to her and she would do everything to help her in any way.
"I'm hoping that Miley is going to be just fine…. So I think we should just let her grow up." Dolly Parton said.
Watch as Dolly Parton speaks about Miley Cyrus and Taylor Swift