Rihanna Gets A Handful Of Nicki Minaj's Booty After Performance (Pictures)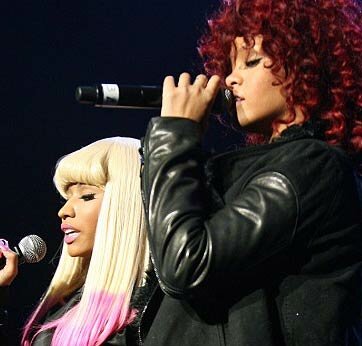 Rihanna is back again getting another grab at Nicki Minaj's ass(ets), this time after a performance of their collaboration song 'Fly' the two performed at the Hammerstein Ballroom in New York on Thursday night for the Nicki Minaj Thanksgiving Concert.

During the song the two were seen holding hands on one occasion and at the end of their duet, Rihanna placed her arms around Nicki Minaj who wore a black and tan outfit which looked to be made of satin in the front and mesh with gold sequins in the back, grabbed and palmed as much of Nicki Minaj's buttocks in her hands as she could hold and pulled it up from the bottom until it bounced back down.
Nicki Minaj who had a smile, stated that only Rihanna could get away with something like that.
Nicki Minaj performed several songs from off debut studio album Pink Friday which released on November 19th.
Others in attendance who performed, included the controversial Kanye West who performed with Nicki Minaj his song 'Monster' from off his album "My Beautiful Dark Twisted Fantasy," as well as Drake, Keyshia Cole, Fabolous, Redcafe, Lloyd Banks and Juelz Santana.
Photos of Nicki Minaj, Booty Pictures:


Video: Rihanna Grabs Nicki Minaj's Booty on Stage

Nicki Minaj and Friends Thanksgiving Concert 2010 Part 1

Nicki Minaj and Friends Thanksgiving Concert 2010 Part 2