Nicki Minaj's Booty in a Bikini: Anyone Ever Seen It?! (Pictures)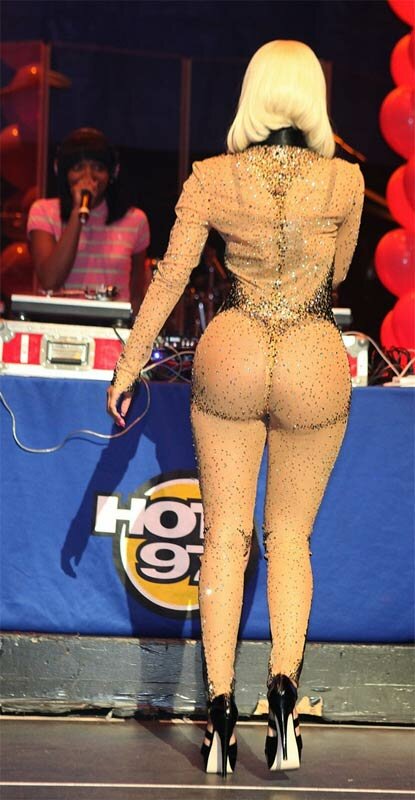 New question: has anybody ever seen Nicki Minaj's booty in a bikini? In pictures or in person?! Ever since Nicki Minaj's booty has bounced back in the headlines, the question has returned: Is Nicki Minaj's booty real or is it butt pads, a booty pop or has Nicki Minaj gone under the knife?!

Even today (Nov 26), Mail Online reports "Move over J-Lo and Beyonce! Nicki Minaj is the new bootylicious girl on the block" but in the sub headline they ask the question "But is it natural or has she gone under the knife?"
Well, Nicki Minaj herself has already answered the question frankly saying her booty is "Absolutely not" butt pads and is 100% all real, as reported on HipHopRX.com.
The admitted bi-sexual rapper has definitely been in a whirl of headlines, but now that the booty question has been reignited, shouldn't the new question be "Has anyone ever seen Nicki Minaj in a bikini?"
No better way to show off that 100% real booty and "absolutely NO" butt pads booty, don't you agree?
Well, until the day comes, guess we can only imagine.
Meanwhile, in related news, if anyone knows the truth about Nicki Minaj's booty, then it would be Rihanna, as the pop diva has twice gotten a chance to feel on the booty of Nicki Minaj once at the American Music Awards when Rihanna smacked and grabbed Nicki Minaj's booty, and again, as reported today (Nov 26) on HipHopRX.com, when the two performed at the Hammerstein Ballroom in New York on Thursday night for Hot 97′s Thanksgiving Concert. Watch the video.
Video: Rihanna Grabs Nicki Minaj's Booty on Stage

Photos of Nicki Minaj, Booty Pictures: