Fantasia Admits To Abortion During Suicide Attempt At Lovers Divorce Trial (Photos)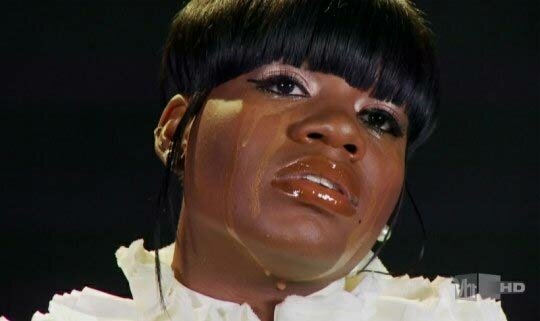 R&B singer and American Idol 3rd season winner Fantasia Barrino, 26, who had been called a homewrecker admitted during court that she aborted the unborn child of her ex-lover Antwaun Cook who was married around August the same time during her alleged sucide attempt, as reported on HipHopRx.com.

According to our people over at RadarOnline.com, who obtained an exclusive audio recording of Fantasia Barrino confessing in a North Carolina court on Monday at the divorce proceedings for Antwaun Cook and his ex-wife Paula Cook, Fantasia claimed she did not know exactly when she got the abortion but it was around August.
Antwaun Cook's ex-wife Paula Cook had filed a lawsuit against Fantasia for destroying her marriage and earlier this month, during a meeting, the two attempted to come to terms after 12 hours of mediation. Fantasia reportedly offered Paula Cook $100K, but Mrs. Cook wasn't buying into Fantasia claiming that she didn't know that Antwaun Cook was married, so the entire thing went unresolved. Mrs. Cook is planning to get her point across under the Alienation of Affection law where the married party which was abandoned can file lawsuit against the party responsible for the failure of their marriage and in this case it seems that Mrs. Cook wants to point the finger at Fantasia for her failed marriage.
Meanwhile, during the proceedings, Fantasia was presented a letter which she wrote her ex-lover, whom she had dated on-and-off for almost 11 months. In the letter Fantasia confessed her love to Antwaun Cook and how she wanted to have his children and be with him and if he chose to be with her, she would be the happiest girl in the world.
After Fantasia read the letter, she was questioned as to if she was pregnant with his child when she wrote the letter. Fantasia answered, "No, no," and she was referencing to the future when she implied that she wanted to have his children and prayed every night to be with him.
As for the abortion, the singer stated that it wasn't too long ago when she aborted the unborn child of her lover and it was when all the other stuff was going on.
Paula Cook's attorney asked her if the abortion was close to Mrs. Cook's date of separation and again Fantasia says she was not sure and says it was probably in August.
For the meantime, we may have to wait and see what happens with Antwaun Cook after all these proceedings have settled for more.
Check out the audio of Fantasia Admitting To Aborting Her Ex-Lovers Child
Read the full transcript at RadarOnline
Fantasia Talks About The Being Tired, Giving Up, Being Sued and Trying Commit Suicide