Caught on Tape: Woman Strips Down At TSA Pat Down; Other Wears Bikini (Photos)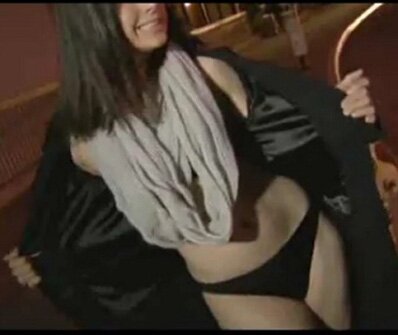 Ever since the TSA incident with the guy who warned the TSA 'If You Touch My Junk, I'll Call the Police,' a number of headlines have made their way into the news regarding TSA pat down procedures, but none like these. One woman recently decided that she would simply strip down to her see-through underwear in the airport for TSA for her pat down, while another woman at LAX decided she would wear only but a bikini to avoid a pat down.

The first woman which decided to strip down to her see through underwear — a sex worker/pornographer of 8 years known as Furry Girl — runs a NSFW site called Feminisnt and decided she would simply put the strip down and pat down on video, since she does nude video anyway and has been seen naked by millions.
'Furry Girl' claims to be a frequent flier who logs about 30,000 miles a year for business and pleasure, and was simply looking to embarrass maybe the 'strangers' at TSA for their 'grope down' procedures by stripping down half naked, and filming it for internet fans to make fun of later.
Watch Video: Furry Girl – One Woman's TSA Stripdown for Pat Down: Nov 21

Meanwhile, another woman, planning to fly LAX, decided she would wear only a bikini to her TSA could-be pat down, trying to possibly avoid the prodecure.
The woman, who doesn't want the body scan, claims she thought wearing a bikini would give the TSA workers a good enough look at her body so they would not need to pat her down, stating 'there's not much you can hide in a bikini.'

Watch video: Woman Wears Bikini to LAX Airport to Avoid Pat Down