Sarah Palin's daughter Willow Palin's Boyfriend Andy Almon Makes Racial Slur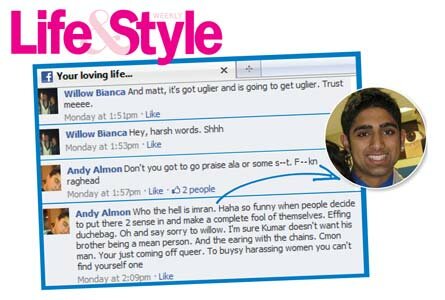 Following the controversial news that Sarah Palin's daughter — no not Bristol but 16-year-old Willow Palin — made a homophobic slur on Facebook, now her boyfriend has been possibly spotted on Facebook referring to someone as a queer and referring to a Pakistani man as a "f–kn raghead."

Willow Palin's boyfriend Andy Almon called the Pakistani man a "f–kn raghead" following the seemingly sarcastic question, "don't you got to go and praise ala or som s–t," evidently referring to "Allah", the Arabic word for God.
Apparently during the Facebook exchange, which was obtained by Life & Style magazine, Imran Chaudhry, 19, was reportedly making a Facebook comment in regards to the TV show "Sarah Palin's Alaska" on Nov. 14, which was when the show premiered on TLC last week. His comment allegedly sparked the racial slur by Willow Palin's boyfriend Andy Almon.
Apparently, friends Tre Kryznowek, 18, and Matt Scott, 19, who are also acquaintances of Willow, criticized "Sarah Palin's Alaska" on Facebook including Willow and her boyfriend.
As of yet, there has been no response to the press from Sarah Palin regarding the 'controversial' comments apparently made by her daughter's boyfriend to their Facebook peers.