Kanye West Faces Matt Lauer At Macy's Thanksgiving Day Parade (Photos)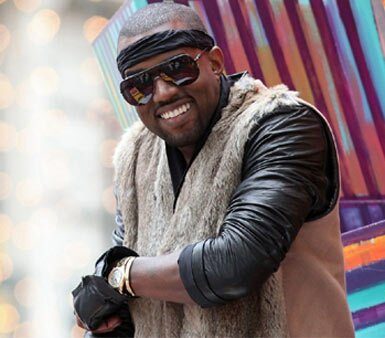 The cocky, egotistic, or whatever Kanye West is being called these days (he doesn't care), performed during the 84th Macy's Thanksgiving Day Parade on a float at the Manhattan's Herald Square on 34th Street with Matt Lauer in attendance as the host. During his performance, the rapper and producer performed the song 'Lost in the World' which is off his latest studio album My Beautiful Dark Twisted Fantasyn which was released Monday.

Kanye West wore one of his eye-catching outfits which everyone has been gossiping about in which he sported an overcoat which he took off to expose his fur armless jacket, leather shirt and pants, headband and gold chains around his neck. The look was a mixture of the Woodstock days meets today.
It's funny that the host of the Thanksgiving Day Parade was Matt Lauer of the "Today" show who Kanye West ranted about during his New York show on Tuesday and compared the host to a child abuser, as reported on HipHopRX.com. The steam that Kanye West has been letting off comes after the incident that occurred during the taping of his interview on the NBC show which interrupted his interview with audio from one of his other incidents. Now get this, Lauer had to introduce Kanye West during the parade.
The parade was watched from the streets of New York by more than two million people and another few million at home.
Check out Kanye West's performance during the Macy's Thanksgiving Day Parade.