Jay-Z Vs Eminem: Who's Better? Numbers Don't Lie?!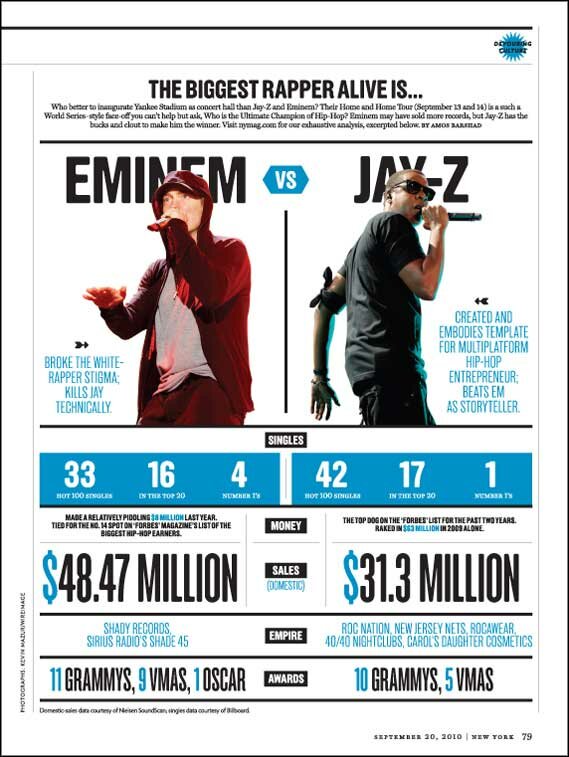 Jay-Z vs Eminem, who is better? That is the question asked for ages, while the answer has never really been answered because the internet question always seems to get a half and half response from fans, now the numbers question has been set into place. It's no longer who is lyrically better…

As Lil Wayne and Yo Gotti put it, "Men Lie, Women Lie, Numbers Don't Lie," but does that really determine who's better because really, how are the numbers determined? Is it only cd sales, digital downloads or do the numbers include a list of financial endeavors and investments, which both Eminem and Jay-Z are businessmen outside of being rappers.
With that being said, can the numbers in the image answer the question, "Jay-Z Vs Eminem: Who is better?"
Probably not, but it's still a question now floating the internet.
Meanwhile, in related news, Eminem and Jay-Z, yes still among the highest grossing in 2010, have shown one thing, when they tour together, they make money. According to The Boombox, the numbers of their Detroit dates confirm that Eminem and Jay-Z's Detroit and New York City mini-tour back in May was one of the quarter's biggest money-makers.
Jay-Z and Eminem, reportedly brought in $6.9 million for their back-to-back performances at Detroit's Comerica Park on Sept. 2 and 3 and Sept. 13 and 14 at Yankee Stadium, according to Billboard's Hot Tours, reported The Boombox.
So, one thing's for sure, "Jay-Z AND Eminem together equals money: Numbers Don't Lie?!"