3 Teens Found, Boys Survive 50 Days at Sea On Coconuts, Rain and Seagull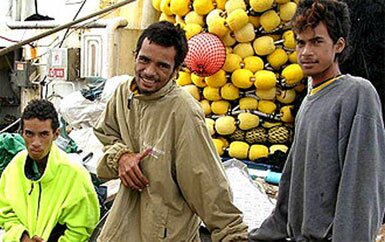 Three young teen boys reported dead were found after surviving 50 days at sea on 20 coconuts, fish and a seagull. Samuel Perez and Filo Filo, both 15 and Edward Nasau, 14, disappeared after a sporting event on October 5 on a little 12 foot aluminium boat which drifted them over 808 miles away from their home in Atafu atoll which is a part of the New Zealand territory of Tokelau to the French territory of Wallis and Futuna.

According to reports, the three young teens who were believed to have been dead were rescued after a fishing boat took a route in an area that it normally didn't take and happened to come across them while heading to Auckland to unload in New Zealand.
The young boys were in good health and spirits according to the fisherman, but were very skinny and would have probably survived only a few more days.
Edward Nasau, Samuel Perez and Filo Filo are stated to have had twenty coconuts with them that they ate the first two days out at sea and luckily the three had the skills to catch fish and captured a seagull. The boys also knew to capture water at night in a tarpaulin. When it had stopped raining, the last two days before they were rescued the young boys opted to drink seawater which is dangerous for anyone since it causes diarrhea and dehydration.
Edward Nasau, Samuel Perez and Filo Filo were believed to have been dead after an extensive search and rescue was conducted. A memorial service was later held in their honor and since their rescue, their families have been ecstatic.
Thankfully after 50 days out at sea on the Pacific Ocean the three young men were found.