Jay-Z Weighs In On Barack Obama Critics; Considers Run For President In 2018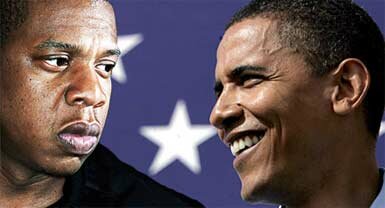 Hip Hop rapper and businessman Jay-Z who supported President Barack Obama during his 2008 campaign is supporting him yet again. The hip hop artist feels that people should 'bag off' Obama after he took over a devastated America.

When President Barack Obama took office the dreadful economy was in one of its' worst shapes. The bad economy allegedly occurred due to a shortfall with banking systems and resulted in bailout of banks by the government and if you ask Jay-Z, he says that people are not taking into account where the country was before President Barack Obama took office.
Reportedly the state of the economy was at its worst since the Great Depression which started in the late 1920′s and didn't end until the early 1940′s and it effected everyone which included all lifestyles (rich and poor) and countries. The financial crisis now is having a similar effect including on several different industries evolving around financial institutions such as real estate and the stock market which has trickled down to all citizens.
Jay-Z added that by President Obama taking on a office with so much to fill, the job would be difficult for anybody.
Currently Barack Obama's team is stated to be linking up with Jay-Z to work on the 2012 campaign inorder to help gain the young adults.
Meanwhile, according to reports, Jay-Z is looking at being the next man in the White House. The rapper admitted that he'd like to possibly run for office — "maybe in eight years."