Eminem Leads American Music Awards, Justin Bieber, Katy Perry, Kesha, B.o.B., Usher Follow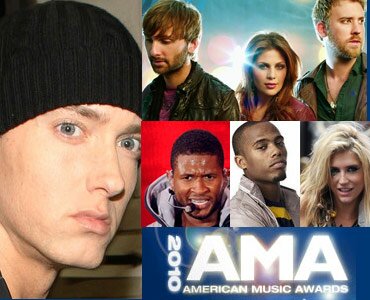 Rapper Eminem is in the lead along with country music group Lady Antebellum for five nominations for the 38th annual American Music Awards.

Those following behind Eminem and Lady Antebellum in nominations are Pop singer Justin Bieber with 4 nominations and Usher, Katy Perry, B.o.B., and Ke$ha with 3 nominations each.
Rapper Eminem and Justin Bieber are going head-to-head in the categories of "Favorite Male Artist," "Artist of the Year" and "Favorite Pop/Rock Album," while Katy Perry and Ke$sha compete for "Favorite Pop/Rock Female Artist," and "Artist of the Year" up against Eminem and Justin Bieber.
The nominations were announced on last Tuesday by recording artists Demi Lovato and Taio Cruz at the JW Marriott Los Angeles at L.A.
According to reports the awards ceremony is expected be opened by Pop/R&B singer Rihanna. Others confirmed to perform include Usher, Pink and Bon Jovi with additional acts as well as presenters to be announced in the coming weeks.
Meanwhile, a red carpet digital pre-show from the 2010 AMA Coke Red Carpet will be hosted by Danny Gokey, Jennette McCurdy, Lance Bass and Whitney Port will be available on ABC.com and will also be streamed from online streaming video broadcasting site USTREAM.tv.
The 38th annual American Music Awards will be hosted by N'Sync alum Lance Bass and will air live from the Nokia Theatre L.A. on Sunday, November 21 (7:00-10:00 p.m., CST) on ABC.
2010 38th annual American Music Award Nominees:
Favorite Pop/Rock Male Artist
Justin Bieber
Eminem
Usher
Favorite Pop/Rock Female Artist
Ke$ha
Lady Gaga
Katy Perry
Favorite Pop /Rock Band, Duo or Group
The Black Eyed Peas
Lady Antebellum
Train
Favorite Pop/Rock Album
Justin Bieber, My World 2.0
Eminem, Recovery
Katy Perry, Teenage Dream
Favorite Country Male Artist
Jason Aldean
Luke Bryan
Brad Paisley
Favorite Country Female Artist
Miranda Lambert
Taylor Swift
Carrie Underwood
Favorite Country Band, Duo or Group
Zac Brown Band
Lady Antebellum
Rascal Flatts
Favorite Country Album
Jason Aldean, Wide Open
Lady Antebellum, Need You Now
Carrie Underwood, Play On
Favorite Rap/Hip Hop Male Artist
B.o.B
Drake
Eminem
Favorite Rap/Hip Hop Album
B.o.B, B.o.B Presents: The Adventures of Bobby Ray
Drake, Thank Me Later
Eminem, Recovery
Favorite Soul/ Rhythm & Blues Male Artist
Chris Brown
Trey Songz
Usher
Favorite Soul/ Rhythm & Blues Female Artist
Alicia Keys
Rihanna
Sade
Favorite Soul/ Rhythm & Blues Album
Alicia Keys, The Element of Freedom
Sade, Soldier of Love
Usher, Raymond v. Raymond
Favorite Soundtrack Album
AC/DC, "Iron Man 2″
Glee: The Music, Volume 3 Showstoppers
"The Twilight Saga: Eclipse"
Favorite Alternative Rock Artist
Muse
Phoenix
Vampire Weekend
Favorite Adult ContemporaryArtist
Michael Bublé
Lady Antebellum
Train
Favorite Latin Artist
Daddy Yankee
Enrique Iglesias
Shakira
FavoriteContemporary Inspirational Artist
Casting Crowns
MercyMe
TobyMac
Artist of the Year
Justin Bieber
Eminem
Ke$ha
Lady Gaga
Katy Perry
T-Mobile Breakthrough Artist
B.o.B
Justin Bieber
Taio Cruz
Jason Derülo
Ke$ha
Lady Antebellum
Travie McCoy
Mike Posner