Alicia Keys, Swizz Beatz Spotted Shopping After Birth of Newborn Baby (Photos)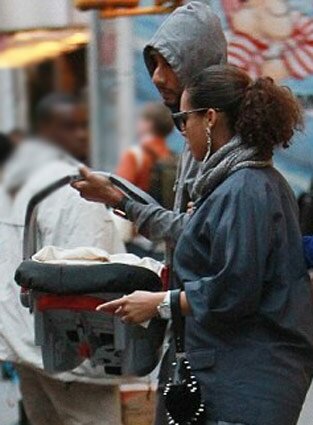 Singer/songwriter Alicia Keys and music producer Swizz Beatz are enjoying time with their newborn and celebrity baby after giving birth on last Thursday, October 14, in New York at St. Luke's Roosevelt Hospital.

Alicia Keys born Alicia Cook, 29, and Swizz Beatz, 32, born Kasseem Dean named their son Egypt Dauode Dean.
On Tuesday, Alicia Keys and Swizz Beatz were seen out in New York City with baby Egypt and then again the couple were seen out shopping for baby clothes.
In July, the two became husband and wife in Corsica, France.
Swizz Beatz has three other children, two which are from a previous marriage with singer Mashonda Tifrere.
Swizz Beatz two sons are Prince Nasir and Kasseem Dean Jr. and the daughter's name is Nicole.
Pictures of Alicia Keys, Swizz Beatz Shopping After Birth of Newborn Baby (Photos)