Real Housewives of Atlanta Kandi Preps New Album, Song 'Leave U' (Lyrics + Photos)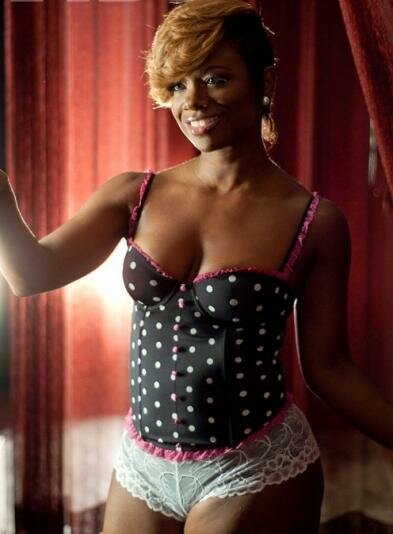 The Real Housewives of Atlanta reality TV show cast member Kandi Burruss, most known from the chart topping music group Xscape in the 90′s and as a highly respected songwriter, is prepping for her newest album entitled Kandi Koated.

The album "Kandi Koated" follows behind her debut album "Hey Kandi…" which was released in 2000, the same year she was released from Columbia Records.
Currently the singer/songwriter is promoting her latest single "Leave U" and recently shot the music video for it which was caught by VIBE Magazine in pictures.
VIBE Magazine's Wes Powell went behind the scenes and caught Kandi in photos on the set of her video shoot for her new single 'Leave U' which shows the singer/songwriter looking voluptuous and a cameo by Pooch Hall of the TV show The Game.
Kandi Burruss has written songs for Mariah Carey, Pink, Whitney Houston, Alicia Keys, TLC, Destiny's Child, 'N Sync, Boyz II Men, Faith Evans and more. In addition, Kandi also re-wrote and executive produced "Tardy For The Party" for Housewives of Atlanta cast member Kim Zolciak, which peaked at number 3 on iTunes Dance charts.
In other news, on last year, Kandi Burruss' ex-fiance Ashley 'A.J.' Jewell was killed at the Body Tap strip club in Atlanta, Georgia when a fight broke out. According to Kandi Burruss, she has had a rough time dealing with his death, but is finally moving on.
Check out photos of Kandi Burruss on the set of "Leave U" and listen to the single below.
Listen to Kandi Burruss – Leave U + Lyrics

More photos of Kandi Burruss @ Vibe