Bishop Eddie Long Not The Only Pastor In Teen Sex Scandal: Billy McCurdy (Photos)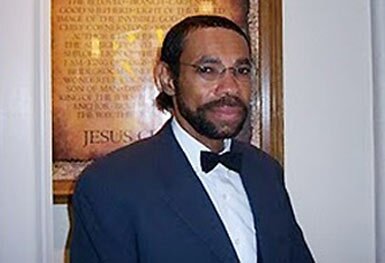 Seems that Bishop Eddie Long is not the only one allegedly sexually abusing young teen boys. Pastor Billy Eckstine McCurdy, 57, of the Las Vegas church Revival Temple Church of God in Christ was arrested on Friday after a eight month investigation for sexually assaulting young boys at his home. McCurdy is being held at Clark County Detention Center and faces 11 sexual abuse charges.

According to reports, Billy Eckstine McCurdy, had a similar case 5 years ago that was dropped due to lack of evidence.
Two teens boys have accused Billy Eckstine McCurdy of sexual assaulting and claim that he forced them into sexual relationships by using his authority and bible scriptures which is similar in the Bishop Eddie Long civil lawsuit, as covered on HipHopRx.com.
On last Thursday, the young men had Billy McCurdy indicted after testifying to a grand jury. Billy Eckstine McCurdy was charged with five counts of open or gross lewdness and six counts of sexual assault. McCurdy is being held without bail.
Meanwhile, authorities feel that there are more victims, but they haven't came forward yet.
Billy Eckstine McCurdy is known for being involved in youth functions and sponsoring trips, having youth events at his home as well as sleepovers.
McCurdy also opened his home and allowed young teen boys to leave with him for extended periods, which is the deal with the two latest victims.
In the 2005 case, McCurdy was accused of trying to fondle a high school student at his home after at youth slumber party. The victim claimed that he and other students where at McCurdy's home and split up to go to bed after swimming. Authorities stated that victim told them that he was going to sleep on the floor in the Pastor's room, but McCurdy invited him to sleep in his bed and when he woke up he felt McCurdy trying to place his hand on his privates. The boy is stated to have left and walked to a relatives home.
The D.A. didn't prosecute for that particular case stating that it was due to lack of evidence and conflicts. Hmm…
The church stood behind Billy Eckstine McCurdy in that case. Let's see if they still stand behind him in this one.
Currently they have no comments.
Developing….