Adam 'Pacman' Jones Wrongly Arrested In Public, Cops Apologize (Arrest Photo)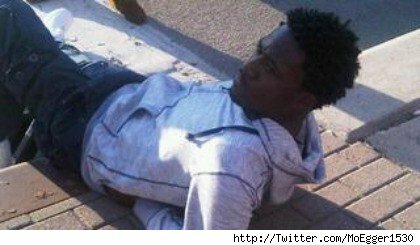 Seems that as soon as Bengals defensive back Adam Pacman Jones finds a little serenity, someone just has to shake things up a little to let him know that eyes are on him.

In a mishap on Sunday, the Cincinnati Bengals NFL ballplayer was arrested and pictures of Pacman Jones made rounds online in which people believed he was yet again in some legal trouble. So what did Pacman Jones do?

Pacman Jones was driving his silver Jaguar near Great American Ball Park and tried to miss a car by swerving. The football player's car ended on the sidewalk causing a pedestrian to fall.
According to police, the pedestrian fell to the ground and wasn't hurt.
So what's the big fault? The police did a routine check on Pacman Jones to check for any outstanding warrants and during the check the dispatcher told the officers that there was some type of open warrant. The story goes that it was too noisy when they were talking to the dispatcher and failed to hear that she corrected herself and said it was for another person.
Jones tried to explain to them that they have the wrong person and the police failed to listen to him or verify they had the correct Adam Jones.
Pacman Jones ended up getting handcuffed in a public crowd for over 45 minutes on the sidewalk and was released two blocks away out of public view — in private. Cops claim it was to avoid embarrassment and onlookers.
So the question now is "who would have avoided the embarrassment?" Pacman or the police?
Since the incident, the police chief has apologized for the 'so-called' unfortunate incident and said it was stupid and embarrassed Pacman Jones as well as humiliated him in front of everybody.
So will Pacman Jones accept their apology?