Rapper T.I. Faces 1 Yr In Jail After His Arrest With Wife; Lawyers Seek Less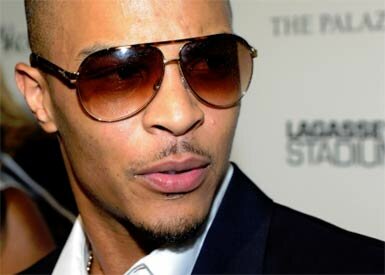 Rapper T.I. seems to have set himself up to do a bid in jail after his recent incident on September 1 in Los Angeles, California. The rapper violated his probation by being in possession of controlled substances (ecstasy, sizzurp), testing positive for drugs and being in the company of a convicted felony Cortez 'C-Rod' Thomas, as reported on HipHopRx.com.

T.I. born Clifford Harris, Jr along with his wife Tameka 'Tiny' Cottle were arrested after making an illegal U-turn in their luxury Maybach on Sunset Strip Blvd.
Currently, the rapper's attorney and the prosecutors are having a little disagreement over how much time that T.I. should spend behind the slammer after getting a great bargain on his felony gun charges. T.I. was charged and served one year in jail after attempting to purchase weapons and silencers from an undercover agent in October of 2007.
The hip hop music artist, actor and business man was released from prison on last March and with this recent violation, the judge is probably not going to go easy on him.
Reports say that his probation officer wants T.I. to do between 8 to 14 months in jail, while his legal team wants him to do between 5 to 11 months.
T.I.'s hearing is set for October 15 at 2PM to see U.S. District Judge Charles Pannell Jr.
In addition, this incident may have axed him from his AXE deal, as mentioned on HipHopRx.com.