Tila Tequila Sex Tape Extortion Case Loss; Pictures Exposed Online (Photos)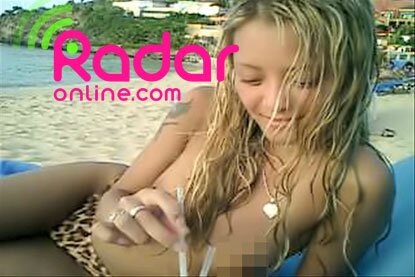 Looks like some photos from the alleged Tila Tequila sex tape and a video snippet has made its way online. Tila Tequila previously made claims that an ex-boyfriend was trying to extort 75K from her and she ranted online, as reported on HipHopRx.com.

On Thursday, the celebrity socialite went to court but lost, RadarOnline reported. The judge felt that the Myspace celebrity, MTV star and model is always exploiting her sexuality and rejected the argument at the hearing.
Meanwhile, check out a few photos of Tila Tequila who looks to be romping some man and photos of her lying topless on the beach. Hopefully she didn't get some poor dude to agree to do this just for the sake of publicity.
In August, Tila Tequila was attacked by a booing crowd of Juggalo fans who slapped her upside the head with feces, bottles, stones and lit firecrackers. Her approval rating was down by that much and many know that she'll do just about anything to get your watchful eyes.
View Photos, Stills From The Tila Tequila Sex Tape Video