Bishop Eddie Long Exposed In 2006 By 'Crooks and Homos' Author?! (Photos)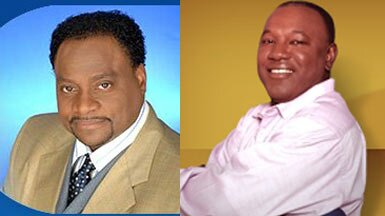 By now, the world knows that Bishop Eddie Long, who has four civil lawsuits against him from four former youth followers, has been accused of coercing them into sexual relationships by enticing them with jewelry, cars, luxury hotels suites, college tuition and more, as covered on HipHopRx.com. But now, new information reveals that an author and talk show host may have attempted to expose Bishop Eddie Long years ago.

If you could ask book author Reuben Armstrong where did the rumor of Bishop Eddie Long first start that he was having sex with some of his youth followers, everyone would probably point at him. Reuben Armstrong, a best selling book author, is the man who allegedly started rumors that Bishop Eddie Long was having homosexual relationships with some of his followers after he tried to bring it to light in 2006 on his talk show.
Armstrong is known for blasting big-time preachers who utilize God's Word to further their personal fame and fortune. While their congregation is sitting there needing groceries and help paying their bills, some people claim the preachers are prancing around with big jewelry, fancy cars, expensive suits, homes, amongst other things.
So how did this all get started? According to the Examiner, Armstrong stated that after youth pastors from Bishop Eddie Long's church came to him for help because of his status.
It seems that the two youth pastors believed that Reuben Armstrong could help them and disclosed to him that Bishop Eddie Long was having sex with some of the young teen boys at church and they also stated that others knew about it. The two youth pastors allegedly didn't know what to do and wanted their names to remain unknown, but wanted everyone to know what was going on.
In addition, the youth pastors claimed that Bishop Eddie Long was grooming the young men to become his sexual partners, something which is mentioned in the civil lawsuits recently filed.
Now in 2010, four young men have come forward accusing Bishop Eddie Long of having sexual relationships with them.
What's funny is that Reuben Armstrong released a book on last year entitled "Crooks and Homos in the Pulpit" which focuses on Bishop T.D. Jakes, Bishop Eddie Long, Joel Osteen and Creflo Dollar.
According to Armstrong, "Crooks and homosexuals are spreading their lies and deception throughout the churches and the community like peanut butter on bread."
His latest book is stated to expose the sexual favors given in pastoral studies and Sunday School rooms, and the church "hoochie mommas" and "puff daddies" that the leaders attract as their groupies.
It seems that if youth pastors came to Armstrong in 2006, then there's likely a lot more that may come to light sooner or later.
What Reuben Armstrong wants everyone to say is, "Enough is enough! Take your false doctrines with you straight to the pits of hell!"
Developing…
Photo of book cover Crooks and Homos In The Pulpit:

Read more news on the Bishop Eddie Long Sex Scandal.
Picture of TJ Ward, a very high profile investigator hired to probe the Bishop Eddie Long sex abuse scandal:

Pictures including mug shot photos of Bishop Eddie Long sex scandal accusers, alleged victims Anthony Flagg and Maurice Robinson, plus Spencer Legrande and Jamal Parris:
Cellphone photos of Bishop Eddie Long.. the reported cell phone pictures that were allegedly sent to his accusers: