T.I. May Go Back To Jail For Probation Violations + AXE May 'Ax' Endorsement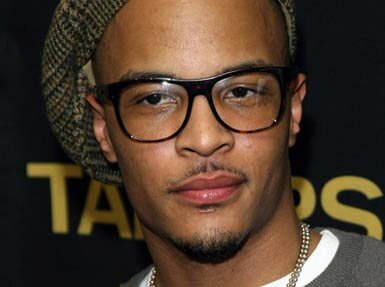 Rapper T.I. who was arrested along with his wife in September on felony possession of a controlled substance has a hearing date set to make a plea to not get sent to jail. The newly married rapper, his wife Tameka Tiny Cottle and another convicted felon were arrested when officers saw his Maybach make an illegal u-turn on Sunset Strip Blvd, as reported on HipHopRx.com.

What's bad is that the rapper was in the company of a convicted felon which violates his probation, had drugs in possession (ecstasy, codeine and marijuana) and to top the cake, failed a drug test. These are three things that clearly violate his probation.
T.I. is on probation for his felony gun charge, as covered on HipHopRx.com, in which he tried to purchase silencers, guns from an undercover agent in 2007. The rapper served minimum time after getting a deal to do community service, amongst other things.
T.I. must have had way too much sizzurp, because the felon that was in his company is reported to be Cortez "C-Rod" Thomas, the same guy who allegedly set-up his illegal firearm purchase.
Since T.I. born Clifford Harris, Jr violated his probation, he could face up to three years in prison. If he gets time behind bars or not, hopefully he'll make some wiser choices from here on.
T.I. will be going to see U.S. District Judge Charles Pannell Jr. on October 15 at 2PM.
In related news, T.I.'s run-in with the law is costing him as his latest endorsement with AXE may be 'axed' as the rapper has created shaky grounds after he allegedly promised to be working as a positive role model.