Dancing With The Stars' Brandy and 'Booty Smack' Maks Pull Off Sexy Samba!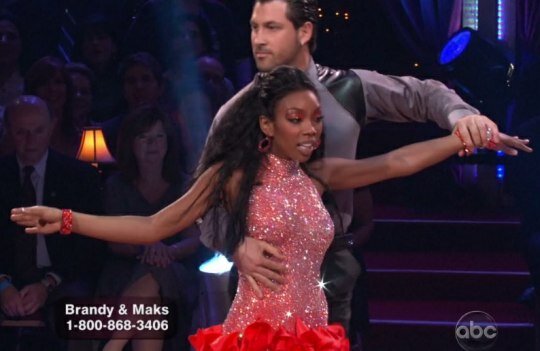 Dancing With The Stars "Brandy Norwood and Maksim 'Booty Smack' Chmerkovskiy performed the Samba and it was a hot performance. However, in the beginning stages of learning the Samba, she seemed unwilling to listen to instruction, but Booty Smack Maks did get to instruct Brandy who later cooperated.

Brandy had a lot of trouble getting along with her partner at first, or at least it seemed. Brandy was extremely rude to Maks. She eventually had to bring duct tape to one of their sessions to keep herself from talking and simply learn the dance moves.
Brandy admitted that Maksim was the professional and listening to him and learning how to perform the Samba correctly was definitely the only way they could win.
After having a very firm teacher and dance partner, Maksim Chmerkovskiy, Brandy definitely began showing drastic improvement. Their practice sessions were definitely fun to watch.
When it was all said and done, Brandy Norwood and Maksim Chmerkovskiy gave an astonishing performance with the help of a bit of hard work and 'booty smacking.'
Video: Brandy & Maksim Chmerkovskiy – Samba Dancing With The Stars Season 11