Caught in Pictures: Is Chelsea Handler 'Screwing' With Rapper 50 Cent?! (Photos)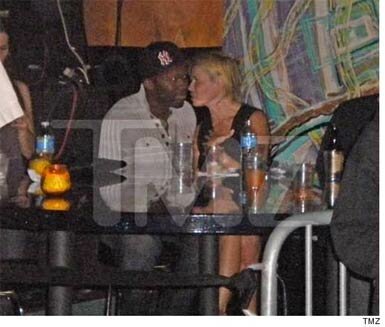 After Chelsea Handler's please deposit 50 Cent panties which she displayed to him on her show after he tweeted to see what the dog was looking at under her skirt, the two were later captured in a picture by TMZ at Blue Nile jazz bar all snug and close in New Orleans.

The comedianne and late night talk show host of Chelsea Lately was in New Orleans for a show where 50 Cent also performed. According to TMZ, one of their spies say that the two were getting all hot and heavy with each other.
On Monday, it seems that Chelsea Handler took 50 Cent and her wishes to another level in the form of a tweet pic. The picture displayed two cabbage patch dolls, one believed to be 50 Cent and the other her of course. What were the dolls doing? See for yourself below.
Chelsea Handler later came back and tweeted another picture Tuesday and stated, "This is the only man who I allow to see me in my briefs." Who was the man? It wasn't 50 Cent.
What does 50 Cent have to say about this? Nothing we assume.
50 Cent for sure showed interest in Chelsea Handler during his appearance on Chelsea Lately last year. The rapper, actor and businessman told her he deserved her and asked her if she had a boyfriend. Chelsea Handler's reply, "Maybe you do deserve me, may you do. I feel like you deserve me for a couple of minutes."
Meanwhile, it seems that Chelsea Handler may have been playing along with 50 Cent due to him posting on his Twitter about women receiving the same oral gratification as men after his male followers enjoyed it.
As for what 50 Cent is doing with himself, he says he's in the gym getting back in shape, see him in his tight red mock workout shirt like Bishop Eddie Long.