Bishop Eddie Long Sex Scandal: Acts Of Sins and Crimes; New Details (Photos)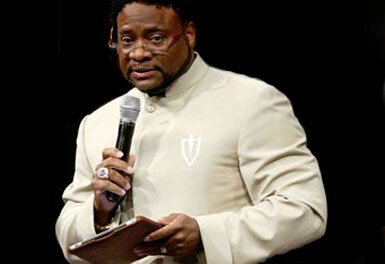 Acts of sins and crimes will go unpunished is probably the words that you would like to hear Bishop Eddie Long speak instead of him being accused of committing one. According to former youth followers of Bishop Eddie Long, he should be punished for his acts of sexually abusing them and coercing them into sexual acts as teens through the use of his authority and leadership at mega-church New Birth Missionary Baptist Church and note this is a man who preached against homosexual activities.

The four plaintiffs, now grown men and in their twenties, claim that during their latter teen years that Bishop Eddie Long used perks such as cars, jewelry, private jets flights, luxury hotel suites, college tuition and more as a form to entice them to perform sexual favors. One of the accusers say that Bishop Eddie Long would make them rub him with oil and give him massages at the gym, while another accuser says the sexual favors included oral sex, among other things.
Bishop Eddie Long allegedly abused and used his spiritual authority as Bishop and leader of his ministries to coerce certain young male members and employees of New Birth and pupils of Longfellows Youth Academy into engaging in sexual acts and relationships for his own personal sexual gratification.
As for what Bishop Eddie Long has had to say about the accusations brought on by Jamal Parris, 23; Maurice Robinson, 20; Anthony Flagg, 21 and Spencer Legrande, 22; he's not going to be pulled into a street fight, as reported on HipHopRx.com.
Bishop Eddie Long's accusers haven't been as quiet as him about how they feel, since they feel that they have bottled up their pain and anguish for so long.
Just to push the envelope either further, Bishop Eddie Long's legal team has hired a Private Dick aka Private Investigator, high profile PI named TJ Ward, who expects to dig up as much information as possible on the four plaintiffs and those closely around them, also covered on HipHopRx.com.
If you recall, Bishop Eddie Long did say it's getting close to elections, something strange to say during civil lawsuits against him. Things that make you go, hmmm.
The only thing now is to see who or what will give.
Read more news on the Bishop Eddie Long Sex Scandal.
Here's the picture of the 'private dick' by the name of TJ Ward, a very high profile investigator, who has been hired to probe the Bishop Eddie Long sex abuse scandal:

Check out the pictures including mug shot photos of Bishop Eddie Long sex scandal accusers, alleged victims Anthony Flagg and Maurice Robinson, plus Spencer Legrande and Jamal Parris:
Check out the cellphone photos of Bishop Eddie Long.. these are the reported cell phone pictures that were allegedly sent to his accusers: