Bishop Eddie Long Scandal: 'Private Dick' To Probe Accusers (Photos)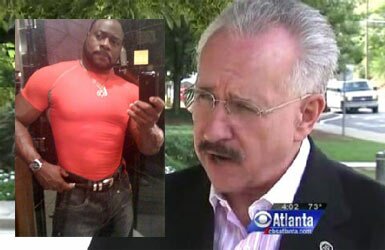 News was revealed that a 'private dick' by the name of TJ Ward, a very high profile investigator, has been hired to probe the Bishop Eddie Long sex abuse scandal, as a Saturday prayer service online stream took place at New Birth Missionary Baptist Church.

The four civil lawsuits, brought on by four different young men who attended New Birth Missionary Baptist Church and were apart of the Longfellows Youth Academy as teens, claim that Bishop Eddie Long coerced them into a sexual relationship after turning of legal age. The suits also claims Long lured them with gifts such as jewelry, cars, luxury hotel rooms, trips, jet flights and more.
During the first week of the allegation, pictures surfaced of Bishop Eddie Long which he took with his cellphone wearing spandex (workout attire) and one with tight moc workout shirt. The following week, Bishop Eddie Long spoke for the first time during a Sunday service, which was a couple days later followed by plaintiffs Jamal Parris and Spencer LeGrande who publicly spoke separately for the first time after being tracked, as reported on HipHopRx.com.
Now with high profile private investigator TJ Ward, the investigator who participated in the Natalee Halloway disappearance in Aruba, you'll never know which way this entire sex abuse scandal may turn.
According to TJ Ward, he was asked to join the investigation by Bishop Eddie Long's legal team. TJ Ward is expected to go as deep as he can go and that's into the four accusers public and private lives and find any data he can dig up on them to see if this lawsuit is even valid and what are they trying to gain from it.
"These are young individuals and these are very serious allegations and we take it very serious also… this is a very serious case and we're not going to bring our case before the media," stated TJ Ward to CBS Atlanta in a TV interview.
TJ Ward goes on to say that he's going to look into the attacks against Bishop Eddie Long and New Birth Missionary Baptist Church.
Developing…
Read more news on the Bishop Eddie Long Sex Scandal.
Check out the pictures including mug shot photos of Bishop Eddie Long sex scandal accusers, alleged victims Anthony Flagg and Maurice Robinson, plus Spencer Legrande and Jamal Parris:
Check out the cellphone photos of Bishop Eddie Long.. these are the reported cell phone pictures that were allegedly sent to his accusers: