Bishop Eddie Long Scandal In Question After Victims Expletive Tape + Photos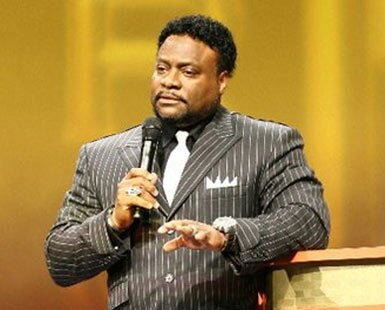 After the latest content hit the Internet over the Bishop Eddie Long sex scandal, which displayed two of the young men involved in the civil suit, Maurice Robinson and Anthony Flagg, in an expletive laced tape while in high school, it seems that things have come to a pause.

Bishop Eddie Long, Pastor of New Birth Missionary Baptist Church located in suburban Atlanta (Lithonia, Georgia), allegedly coerced the four men accusers, who were teens at the time, into sex, as covered on HipHopRx.com.

Prior to the video footage, photos leaked of Bishop Eddie Long dressed in muscle-revealing workout attire which the plaintiffs claimed that Bishop Eddie Long sent to them. Website commenters claim that the photos allegedly come from his stolen iPad that one of the plaintiffs, Maurice Robinson was charged for. Maurice Robinson was captured on surveillance with an accomplice in June for breaking into Bishop Eddie Long's office and stealing a number of items including jewelry and electronics. As for Anthony Flagg, he was accused of being apart of the break-in.
Meanwhile, on Sunday, Bishop Eddie Long, during his first public appearance since the accusations, stated that he's going to fight this thing. The preacher left many questions after not really saying much but stated that he would indeed be back, giving a notion that he is not stepping down from the pulpit.
As people are demanding more answers and information, according to newspaper AJC, the D.A. office in DeKalb County on Tuesday state that currently there is no criminal investigation into the allegations.
Spokesperson Mekka Parish told the newspaper that there is no current investigations involving Pastor/Bishop Eddie Long, the New Birth Missionary Baptist Church or its employees or associates.
An Attorney representing the four plaintiffs who are Jamal Parris, 23; Maurice Robinson, 20; Anthony Flagg, 21 and Spencer Legrande, 22 stated that no new lawsuits would be filed on Tuesday also.
So what does this mean for Bishop Eddie Long and the progress of this civil suit and the accusations?
Developing….
Read more on the Bishop Eddie Long Sex Scandal
Watch video of Bishop Eddie Long Sex Scandal Victims, Anthony Flagg and Maurice Robinson, Caught On Expletive Laced Videotape
Check out the pictures including mug shot photos of Bishop Eddie Long sex scandal accusers, alleged victims Anthony Flagg and Maurice Robinson, plus Spencer Legrande and Jamal Parris:
Check out the cellphone photos of Bishop Eddie Long.. these are the reported cell phone pictures that were allegedly sent to his accusers: