Caught on Tape: Pregnant Mariah Carey Falls On Her Butt On Stage?! + Photos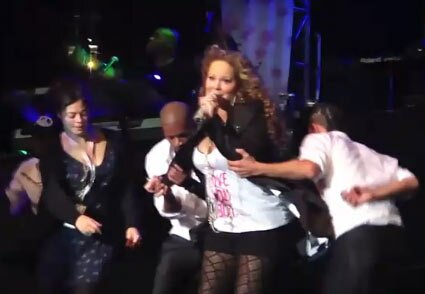 Pop/R&B music star/actress Mariah Carey 'makes it happen' by having an accident over the weekend while performing at a concert in Singapore. What happened? A possibly pregnant Mariah Carey seemingly slipped and fell.

Mariah Carey, who is rumored to be pregnant due to her recent weight gain over the past few months, was in the midst of singing her song "Make It Happen" when she proceeded to walk slowly in her high-heels aka stilettos and slipped. The singer landed luckily on her buttocks and side and was assisted by some of her dancers who picked her up off the stage floor.
Mariah Carey didn't stop, she proceeded to sing and called for an assistant to help her out of her shoes. "…come over here and take these shoes off, obviously I suppose to be barefooted," says Mariah Carey.
"It's dark in here," Mariah Carey stated as the young lady attempted to unbuckle her shoes during the dimly lit concert. Mariah Carey's dancers came to her rescue again and proceeded to hold her up while the shoes where being unbuckled in case of another accidental fall.
Many are speculating she had one too many drinks before hitting the stage. If she's pregnant, like many believe, we surely doubt that Mariah would be taking a little swill before performing. We wonder what her hubby Nick Cannon is thinking now.
In the end, at least Mariah Carey was all laughs.
Photos adn Video: Mariah Carey Falls Onstage While Performing In Singapore