Bishop Eddie Long Sex Scandal: New Details and Pictures Surface (Photos)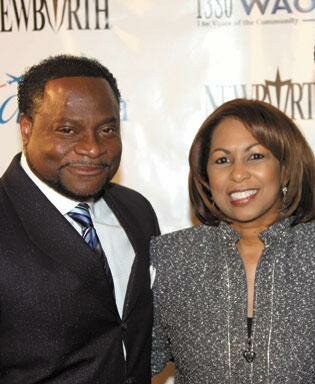 On Sunday, Bishop Eddie Long delivered a message to his congregation as promised and even joked a little with his church family. This was the first time that Bishop Eddie Long had spoken since the suits were filed against him alleging that he had sex with young male members of his church, as covered on HipHopRx.com.

According to Long, he is going to fight these accusations that have been placed against him and that he's not the man that everyone is portraying him to be on television.
Those who attended his service on Sunday anticipated his arrival and where glad to finally to hear him speak, but many felt that he left a lot of questions unanswered. Even during his press conference, Bishop Eddie Long made his statement, never took one question as many believed that he would do and left the podium.
It is believed that due to a statement made by Bishop Eddie Long during his Sunday service, he may have some evidence of his own. The pastor compared himself to the biblical story David and Goliath in 1 Samuel, chapter 17. "I have 5 stones, but I have not thrown one yet," stated Bishop Eddie Long. Goliath was a giant Philistine warrior who had combat with young David, who was the future king of Israel. David won the combat by striking giant Goliath in the head with a stone shot from his sling.
Meanwhile, in one of the suits, there are claims that Bishop Eddie Long coerced young male members such as Anthony Flagg into kissing, sexual massages, masturbation and oral sodomy.
Flagg suits states that employees and agents of the church such as Andrew Moman (Minister and Athletic Director at New Birth), Anthony Render and April McLaughlin often accompanied Bishop Eddie Long and Anthony Flagg on overnight trips and knew that the two were sharing rooms. In addition, Anthony Flagg's suit claims that he has suffered emotional distress, mental pain and suffering and adverse physical consequences and because of Bishop Eddie Long's negligence, Flagg has been subjected to public scorn and ridicule.
All the four Plaintiffs photos have hit the Internet which include Jamal Parris, 23; Maurice Robinson, 20; Anthony Flagg, 21 and Spencer Legrande, 22.
Check out mugshot photos of Anthony Flagg and Maurice Robinson who are accused of breaking into Bishop Eddie Long's office and stealing jewelry, an iPad and other things. Although Anthony Flagg's picture is from another incident (assault charge), it is believed he is connected to the office robbery that took place sometime in June at the church. Maurice Robinson, who was caught on camera with an accomplice was charged with burglary.
According to AJC, the attorney named B.J. Bernstein who represents all the plaintiffs stated that her clients were angry at Long and seeking retaliation after learning he was involved with other men.
Developing….
Read more on the Bishop Eddie Long Sex Scandal
Check out the pictures including mug shot photos of Bishop Eddie Long sex scandal accusers, alleged victims Anthony Flagg and Maurice Robinson, plus Spencer Legrande and Jamal Parris:
Check out the cellphone photos of Bishop Eddie Long.. these are the reported cell phone pictures that were allegedly sent to his accusers: