Kim Kardashian Playing In Her Cherry, Cupcake Pajamas Kissing In Bed (Photos)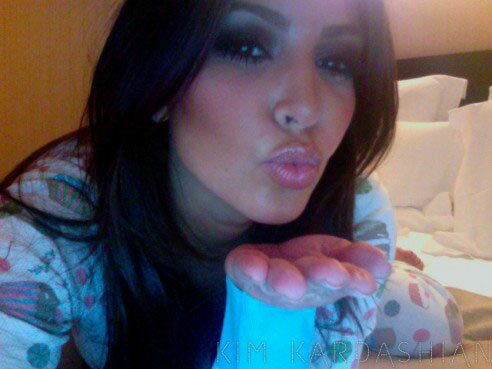 Now usually, you think PJs, hmmm, not a big deal, but when Kim Kardashian decides she's bored, alone, in bed, and wants to take pictures of herself in her PJs — it's a big deal!

Last night, Kim Kardashian, was feeling silly and 'sexy' so she decided it would be a good idea to play with the camera from bed in her pajamas. Yeah right — you're thinking, "..damn, Kim should be bored more often," or is that just us?
Kim took a few pictures in her sexy (well, sexy on her) pajamas, and she says she "was bored in [her] hotel room in Milan."
"I decided to take some silly pics in my pj's," Kim wrote from her official blog last night.
In Kim's pictures, she can be seen blowing kisses at the camera, with those ever so-sexy lips of hers.
Who wants to see Kim Kardashian in her sexy cherry, cupcake decorated PJs? Anyone? Here they are…
Photos of Kim Kardashian Kissing, Playing Around In Bed in Cherry, Cupcake Pajamas