Jay-Z New Years Eve Show With Chris Martin To Earn Hip Hop Mogul Millions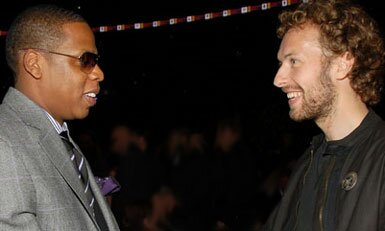 Hip-Hop music mogul and business man Jay-Z born Shawn Carter, 40, along with Cold Play's frontman Chris Martin, the husband of actress Gwyneth Paltrow, will be bringing in the New Year Las Vegas style by headlining a concert at the brand new resort called the Cosmopolitan of Las Vegas Casino-Resort. The announcement was made just shy of a week after performing together at the Yankee Stadium.

According to reports, the rapper will not only be bringing in the New Year, he will be bringing home the bucks as he is expected to get paid millions for his appearance along with Chris Martin for the invitation only event which will broadcast over a 65-foot marquee adjacent to the casino strip.
Jay-Z and his close friend Chris Martin will be doing a set together as well as solo sets for the event. And of course, Chris Martin will be playing with his bandmates for the New Year's celebration scheduled to take place New Year's Eve, December 31, 2010.
In other news, Jay-Z along with 9 year-old Willow Smith's parents, actor/rapper Will Smith and actress/singer Jada Pinkett-Smith, announced that Willow signed on with Jay-Z's Roc Nation label after causing quite a stir online with the release of her track 'Whip My Hair,' as reported on HipHopRx. The 9 year-old appeared on Ryan Seacrest's radio show where Jay-Z called in and spoke of her talent which he compared to a young Michael Jackson.