Bishop Eddie Long Scandal: 4th Victim Surfaces As Cellphone Pictures Leak (Photos)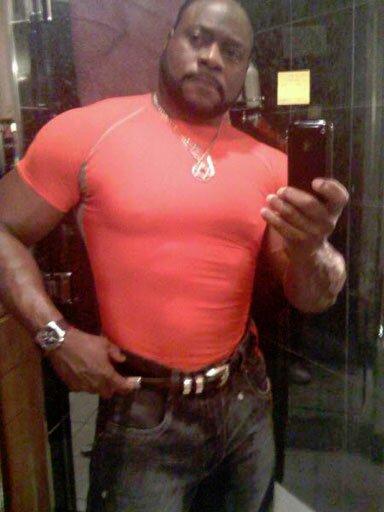 Another alleged victim has come forth and filed a lawsuit on Friday against Bishop Eddie Long, the pastor of the almost 30,00 member church, New Birth Missionary Baptist Church in Lithonia, GA near Atlanta. The fourth victim's accusations comes a day after cellphone photos leaked of Eddie Long wearing spandex workout attire and another photo of him wearing a red tight fitted muscle shirt or tight mock/compression men's top showing off his physique, as reported on HipHopRx.com.

The latest victim Spencer LeGrande, 22, is stated to have met Bishop Eddie Long as a teen like the other plaintiffs, but his relationship involved taking prescription drugs.
LeGrande states that he met Eddie Long at the New Birth Missionary Baptist Church, a satellite church based in Charlotte, N.C. with his mother when he was 15 years old and he would accompany Long on several trips. After allegedly spending time with Long and his fellowship, Spencer LeGrande then made a move to Atlanta at the New Birth Missionary Baptist Church based in suburban Atlanta.
Allegedly, Bishop Eddie Long began taking an interest in Spencer LeGrande when he turned 16 years old and things got heated during a trip to Kenya when he was 17.
While on a eight day trip in Kenya, Spencer LeGrande claims that Long gave him sleeping pills (Ambien) after he complained of insomnia. After taking the pill which Spencer LeGrande allegedly stated that Eddie Long took as well, Long kissed LeGrande on the lips and this is when the intimacy began and as well as on an additional trip.
Spencer LeGrande also claims that he received an automobile, Dodge Intrepid, from Bishop Eddie Long and allegedly was told not to have a relationship with young women.
From the surface it looks as if Bishop Eddie Long tried to take on the role of a father figure to the boys who lacked male role models, but according to the plaintiffs, Eddie Long wanted to develop it into much more.
Check out the photos of Bishop Eddie Long wearing spandex in a bathroom.. these are the reported cell phone pictures that were allegedly sent to his accusers: