Katy Perry's Cleavage Gets Sesame Street Elmo Hot N Cold Duet Banned (Photos)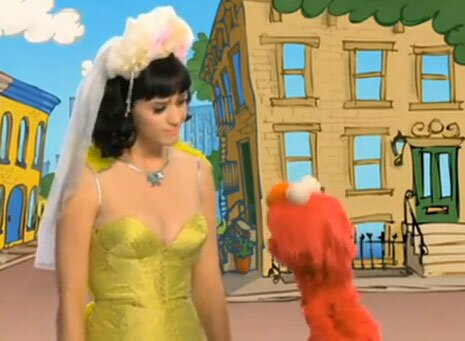 How do you get banned from Sesame Street?! Show your boobies! Really.. just ask Katy Perry. The popular singer who gained immediate stardom status after her hit single 'I Kissed a Girl,' has gotten herself banned off Sesame Street for exposing too much of herself — particularly her boobies.

Katy Perry shot a video with Elmo for 'Sesame Street' on Monday wearing a dress bearing her breast cleavage — too much cleavage, according to enough parents whose complaints swayed the decision of Sesame Street to not air her music video duet with Elmo, which has already been released on YouTube, on television.
Sesame Street released a statement on today, Thursday stating that though they have "a long history of working with celebrities," they "value our viewer's opinions.. particularly those of parents" so "in light of the feedback," they will "not air the segment on the television broadcast of Sesame Street" but it will remain on YouTube.
In case you're wondering, Katy Perry along with Elmo was performing her song 'Hot N' Cold' in the low-cut dress, which can be seen in the following video.
Reported on TMZ, the music video was supposed to air on New Year's Eve..
Photos of Katy Perry and Elmo on Sesame Street in Hot N Cold Music Video
Watch Katy Perry and Elmo on Sesame Street in Hot N Cold Music Video