After T.I., Wife Tiny Arrested, Rapper Facing Jail Time Over Failed Drug Test (Mug Shot Photos)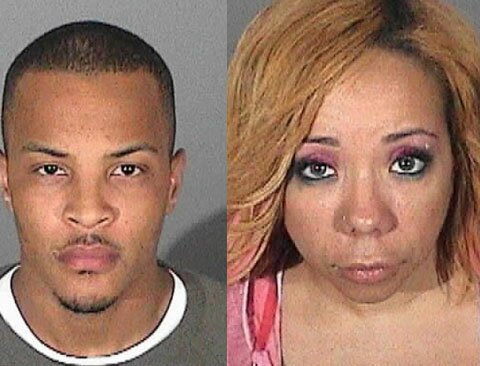 Hip Hop artist and rapper T.I. along with his wife Tameka 'Tiny' Cottle-Harris may be looking at jail time after the rapper failed a drug test and the couple was caught in possession of codeine, marijuana and ecstasy in Hollywood, California earlier this month.

T.I. born Clifford Harris, Jr., is already on a three year probation after being released on federal gun charges stemming from an incident in 2007, as covered on HipHopRx.com. What is sad is that this took place a little over a week after wedding his long-time girlfriend and fiancée 'Tiny' formerly of the 90′s hit R&B music all girl group Xscape at the end of July. What everyone now is worried about is the children that the two share together and who may be in charge of caring for them as the two may be facing some time behind the bars.
Although Tameka 'Tiny' Cottle may not receive time like her hubby, under the terms of his charges, the rapper has violated his probation by failing a drug test which contained traces of opiates were reportedly found in his system shortly after he was arrested. In addition to finding drugs in his system, the rap artist was in the company of a convicted felon reportedly named Cortez 'C-Rod' Thomas while traveling.
U.S. District Judge Charles Pannell Jr. who has been very lenient with the rapper, will definitely be looking for a valid explanation from T.I. after granting and giving him privileges that another inmate would gratefully love to have.
The couple was arrested on suspicion of felony drug possession after they made a U-Turn in the middle of Sunset Boulevard where authorities later claimed a strong smell of marijuana came from the vehicle. It was not until later that other possible drugs were stated to have been discovered such as Sizzurp in Styrofoam cups.
Currently T.I. is expected to be back in court for a hearing to stand before the judge. A date has not been publicly announced.
In other news, it seems that rapper T.I. may have dropped his name from the lineup at Virgin Mobile FreeFest at Merriweather Post Pavilion on Saturday for having to commit to obligations surrounding his drug charge as he prepares for his hearing. Meanwhile, T.I. is hoping to release his latest album entitled 'King Uncaged' sometime this year after a number of schedule changes.