Kanye West, Taylor Swift MTV VMAs Reunion: Performance or Battle?!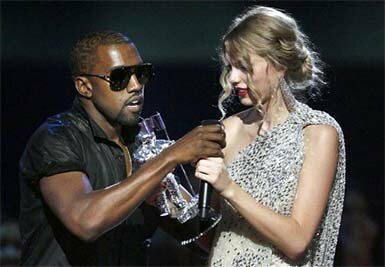 The MTV Video Music Awards (VMA's) is back upon us and Kanye West is back! The rapper/producer who is now infamous for interrupting Taylor Swift's acceptance speech at last year's MTV Video Music Awards, as reported on HipHopRx.com, caused quite a stir when he took the microphone from the Country music star because he believed Beyonce deserved the award more than Taylor Swift.

"Beyonce had one of the best videos of all time," Kanye West stated after taking the microphone away from Taylor Swift.
Taylor Swift beat out Beyonce, Lady Gaga, Katy Perry, Kelly Clarkson, and Pink for the 'Best Female Video' award.
Kanye West now has a chance to prove himself worthy again, as he has been confirmed to perform for the MTV Video Music Awards again as well as Taylor Swift too is expected to sing.
Talk is circulating that the two will pair up on stage while other talk is saying that Taylor Swift has a surprise song of her own in store for Kanye West.
The MTV Video Music Awards airs today (Sept 12) at 8PM CST from the Nokia Theater in downtown Los Angeles. The show is hosted this year by Chelsea Handler.