Paris Hilton Nazi Salute Picture Exposed; Holding Up Hitler Salute?! (Photo)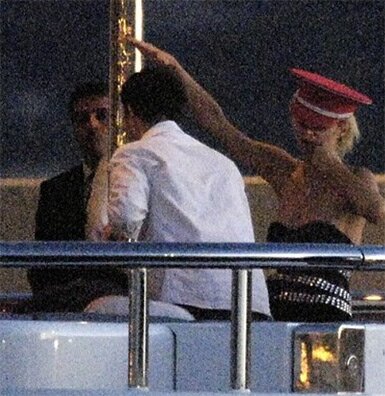 Hotel heiress Paris Hilton can't catch a break for anything now, previously allegedly busted with weed, as reported on HipHopRX.com, and now a sign of Nazism. Paris Hilton is being accused of holding up her hand in the infamous Nazi salute aka Hitler Salute, most known to glorify the German nation and war effort during the rise of Adolf Hitler in the early 1900′s.

Since the allegations, Paris Hilton, has knocked down such doing, saying that she was dancing around and having fun while on a luxury yacht in St Tropez. The celebrity socialite says she was dancing and holding up her arm while scratching her face when the paps snapped the photo.
Trying to explain the situation a little more, but not making it any better, Paris' rep is reported to have stated that what Paris Hilton was wearing was not a communist hat, but instead was a military style hat from a club. The representative went on to say that half of Paris Hilton's family is Jewish and that many of her friends are also. Tell that to Miley Cryus and Lindsay Lohan.
One thing's for sure, Paris isn't letting this bother her because she came back and twitter'd that she went scuba diving in the sea with her cousins and that she was going to go do some yoga with her girls.