Singer Kesha Naked Sex Picture Exposed By Perez Hilton?! (Photos)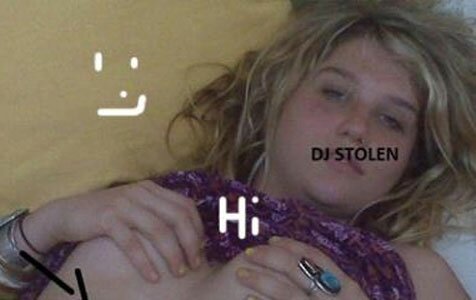 Perez Hilton has done it again, first Miley Cyrus upskirt photo now Kesha naked picture. The gossip blogger exposed Singer Kesha Rose Sebert known as Ke$ha in a bit of sex tape controversy as a very very raunchy and naked picture leaked on the internet on last week showing what is allegedly the singer lying down with her hands fondling her breast with what is being labeled as semen all over her body.

The alleged nude picture of the 23 year-old Kesha is reportedly taken from a sex tape of the singer which has been rumored for sometime.
According to Perez Hilton, the source who leaked the photo also leaked one of Kesha's songs making the source seem somewhat on an insider.
Kesha is known for her debut hit single "Tik Tok" produced by Benny Blanco and Dr. Luke and co-written by Blanco, Dr. Luke and Kesha.
She first broke onto the scene on rapper Flo Rida's song Right round, but Kesha's "Tik Tok" song would go on to put Kesha down in the history books, as the song became the longest running Billboard number one debut single by a female artist since 1977.
Naked Sex Pictures Of Singer Kesha Leaked online

NSFW Naked Kesha Picture is here.