Khloe Kisses Kourtney's Butt + Kim Kardashian Naked Shower Scene! (Photos)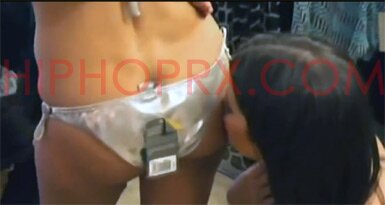 In a another hot episode of E!'s 'Kourtney & Khloe Take Miami' reality tv show featuring the sexy Kardashian sisters Khloe Kardashian and Kourtney Kardashian, the two were on the set of a photo shoot where Kourtney was wearing a sexy two piece bikini suit, while Khloe decided to make fun of her "donk."

While clowning around about Kourtney's butt, and pulling her bikini bottoms up her tushie, Khloe decides (after first dropping quarters down her butt cleavage like a slot machine) that it was a good idea to kiss her butt literally leaving her lovely lipstick print on her sister's lovely ass(ets). Wow!
Kourtney seems to think she needs to get more fit because she feels out of shape, but we're sure a lot of her fans would beg to differ!
Meanwhile, in another hot latest episode, fans will get a chance to catch another one of the ever so beautiful Kardashian sisters naked in the shower — we're talking about Kim Kardashian!
In the video preview, Kourtney is talking to her mom on the phone when she decides to "creep" Kim Kardashian's Blackberry phone because she's not spending enough bonding time with her. Well, when she goes to "creep" the phone, the lovely and very naked Kim Kardashian can be seen soaping up in the shower getting her body 'so ever fresh and so clean clean.'
Check out the hot and sexy scenes featuring the sexy Khloe, Kourtney & Kim Kardashian sisters in E!'s Kourtney & Khloe Take Miami: