Kardashian's Step-Brother Brody Jenner, Avril Lavigne Matching Tattoos (Photos)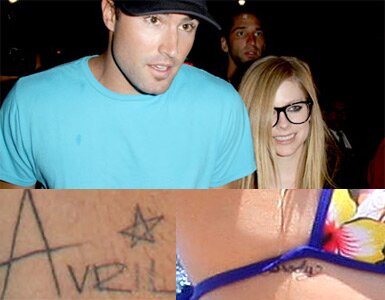 While there's talk of a possible reality show for 'The Hills' star Brody Jenner and his girlfriend singer Avril Lavigne, what's hot is a tattoo the two seemed to have gotten yet again. For those who don't know Brody Jenner, he's the Kardashian sisters' step-brother.

Sources say that Brody has been asking Avril Lavigne to come on board for reality television, but it seems that she really doesn't want to do the reality thing. Guess she's had enough people watching and talking about her life.
As for their blooming relationship, Avril Lavigne and Brody Jenner has been dating since February and guess they wanted to share their commitment to each other once more by getting tattoos of each other's name. Arvil got "Brody" on the side of right breast and Brody got "Avril" inside his arm. Previously the two got tattoos with the word "F—" on their rib cages after a short month of dating which was followed by another tattoo, a lightning bolt. For this new tattoo, Avril wrote her name on Brody's arm before he was inked up. Cute or tacky?
Do you think they are moving a little too fast with getting love tatts, since Avril Lavigne just got a divorce from her husband Deryck Whibley of Sum 41 last year. As for Avril getting tattoos of her lovers, this isn't anything new, both her and her ex-husband had got tattoos also. So what does this mean for Brody Jenner? Hmmmm.
We'll just have to see about this one. Relationship in development stages….