Singer Pink Injured In Concert Accident; Thrown Off Stage (Captured On Tape!)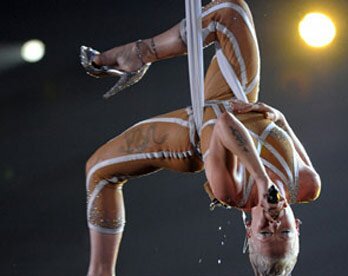 Singer Pink took flying high to another meaning after a concert accident. While performing in Nuremberg, Germany on Thursday, Pink had an unfortunate accident which left her in serious pain when her harness had a mind of its own.

As Pink was being secured in her harness, she was thrown in mid-air and off the stage when the cords snapped back.
After hitting the floor in front of her fans, the singer could be heard saying 'F–k that hurts…' while apologizing to her fans. A majority of crowd sat quietly whispering amongst each other as a few screamed as she was being assisted. Being the trooper that she is, she briskly walked back on stage and bent over as to take a moment of relief from the pain.
Pink was rushed off to the hospital for treatment to insure that she didn't receive any internal injuries from her fall.
Meanwhile, P!nk posted on her twitter that she is doing well and that she didn't receive any broken bones or major injuries from her fall — just soreness.
This isn't the first time that Pink has used the harness, she has been using it quite a bit in her acts with the most memorable one being when she derobed at the Grammys and did her acrobatic routine.