Forbes 2010 Most Powerful Celebrities Topped By Women: Oprah, Beyonce, Lady Gaga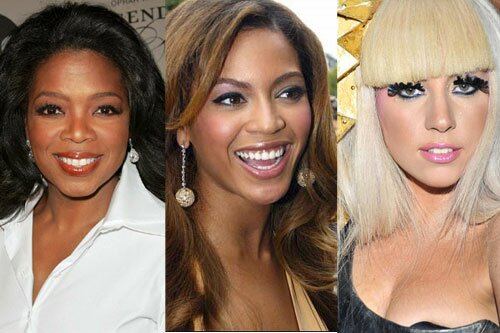 Forbes has released it's annual list of the 100 most powerful celebrities for 2010. Who made the list? Or better yet, who topped the list? Well Oprah Winfrey is this year's #1 most powerful celeb and, though the list didn't rank by income, Oprah also ranked as the richest celeb as well, pulling in over $300 million dollars, $315 million to be exact.

Coming at #2 most powerful is Beyonce Knowles, who's married, of course, to Jay-Z. Though Beyonce was #2 most powerful, she came in at #11 when ranking by money. Beyonce earned a cool $87 million, with $85 million coming from her music tour alone. Jay-Z, who of course, also made the list, came in at #15 on the most powerful list and #21 on the money rank with a cool $63 million.
What's definitely noticeable about this year's Forbes 100 most powerful celebrities list is the domination of women in the top 10: Oprah Winfrey was #1, and Beyonce was #2, well Lady Gaga came in at #4, Britney Spears at #6, Sandra Bullock at #8 and Madonna at #10
More hot celebs who made the list were Tiger Woods at #5, Floyd Mayweather, Michael Jordan, Ryan Seacrest, Black Eyed Peas, Kobe Bryant, Miley Cyrus, LeBron James, Shaquille O'Neal, Sean 'Diddy' Combs, Lil Wayne, the very sexy Angelina Jolie, Venus Williams, Tina Fey (Saturday Night Live/Sarah Palin look-a-like) and others.
Check out the Forbes Top 10 Most Powerful Celebs List:
1. Oprah Winfrey: $315 million
2. Beyonce Knowles: $87 million
3. James Cameron: $210 million
4. Lady Gaga: $62 million
5. Tiger Woods: $105 million
6. Britney Spears: $64 million
7. U2: $130 million
8. Sandra Bullock: $56 million
9. Johnny Depp: $75 million
10. Madonna: $58 million
To get the full list of Forbes 100 Most Powerful Celebs, just go here.