Khloe Kardashian Gets Brazilian Wax From Kourtney + Gets Breast Milk On Her! (Photos)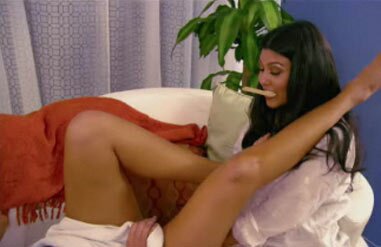 Kourtney Kardashian and sister Khloe Kardashian shared a little sister time together as Kourtney attempted to give her sister a Brazilian wax on their recent episode of Kourtney & Khloe Take Miami.

During the episode, Kourtney Kardashian heats up a container of wax in the microwave while Khloe laid on the sofa bottomless in their Hilton Bentley suite on her back with expectations that her sister would do a job well done. Khloe was hoping to please hubby Lamar Odom on his arrival back in town and didn't want him to see her "hairy beast," but at the rate Kourtney was going, she left Khloe Kardashian in an unpleasant manner.
Khloe Kardashian laughs erratically throughout the entire procedure due to feeling somewhat uncomfortable and when Kourtney makes mentions she has a few stragglers and tries to reapply some hot wax to reheat her 'cooch' area, everything turns serious.
"I need to reheat it," says Kourtney. After doing a reheat Kourtney tells Khloe, "nice and hot just the way you like it" as Khloe kneels on the floor on all four.
"Kourtney this is seriously freaking me out," Khloe says as her sister gets ready to reapply.
"Ouch Kourtney, oh my god, it stings like a mother…," an upset Khloe can be heard saying.
To fix her mess-ups, Kourtney puts some nice butter on Khloe's swollen va-jay-jay and Scott Disick pitches in by giving Khloe a bag of frozen peas.
After the waxing party, the two went to hang out on a boat where they drank a little.
Also, at some point, Kourtney tried to share her breast milk with Khloe saying it may alcohol in it. The two sisters started wrestling and before you know it, the breast milk was on Khloe.
Watch Kourtney Giving Khloe A Brazilian Wax on Kourtney & Khloé Take Miami
Video of Kourtney Kardashian pumping breast milk