Sean Diddy Combs Is Highlight Of 'Get Him To Greek' Movie + Smoking Jeffrey, Fuzzy Walls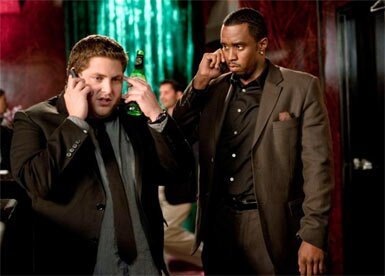 The new movie 'Get Him To Greek' which is a spin-off sequel of 'Forgetting Sarah Marshall' hit movie theaters over this past weekend, one week earlier than its original release date. If you haven't seen the 109 minute long movie, it is one that will keep you laughing due a lot to Sean 'Diddy' Combs, who plays an over-the-top character of himself as Sergio Roma in the movie. Sean 'Diddy' Combs adds a lot to the movie because of his lines and, of course, he was entertaining.

The movie 'Get Him To Greek' is basically about a rock singer Aldous Snow (Russell Brand) who was suggested by Aaron Green (Jonah Hill), an intern at Pinnacle Records, to Sergio Roma for a concert. During a meeting, Sergio (Sean Combs) challenged workers for their ideas for the 10th anniversary of the Greek Theater and Aaron Green thought it would help the company to have Aldous Snow because of the success of Snow's catalog, music and his popularity. At first, Sergio it was a crazy idea and anyone else would have thought so too after knowing that Aldous Snow's career had been on the down after his last unsuccessful album release which included the song 'African Child' which was considered horrible and "the worst thing to happen to Africa since apartheid."
As the movie continues, Sergio brings Aaron Green back and tells him that this would be his moment in which he must successfully pick-up Snow from London (first for an interview on the Today Show) and then for the Greek anniversary concert, all while "mind-f**king" him.
Aaron Green is faced with a number of challenges while attempting to bring the rock star back to the states including issues with his girlfriend Daphne (Elisabeth Moss) but mainly due to Snow wanting to party the entire time.
Another high point of the movie is the fur wall scene followed by Sean 'Diddy' Combs getting hit by a car after the little 'smoking Jeffrey' session with Jonah Hill, Russell Brand and Aldous Snow's father, Jonathan Snow played by Colm Meaney. If you want to know more about it, you have to watch the movie because we can't spoil it for all.
The movie "Get Him To Greek" directed by Nicholas Stoller stars Jonah Hill, Russell Brand, Elisabeth Moss, Rose Byrne, Sean "Diddy" Combs and Colm Meaney.