Kendra Wilkinson Giving 'Becky' In Newest Sex Tape Photos Exposed (Pictures)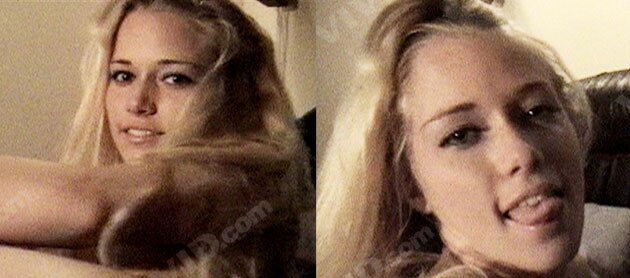 In a sneak preview of Kendra Wilkinson's 'Kendra Exposed' sex tape, the reality star is seen giving her boyfriend (at the time) some of that 'Becky.' Details and photos anyone?

Though the porn company 'Vivid', who has the rights to sell the flick, has pushed back the release of 'Kendra Exposed,' the company decided to give Kendra's fans a sneak peak of the sex tape on it's website KendraExposed.com.
In the clip, Kendra is seen stripping off her clothes and then giving her ex some 'Becky.'
Steven Hirsch, founder/co-chairman of Vivid Ent. released the following statement to Hollywood Scoop about the clip and why he released it.
"Kendra has a huge fan base, and we've been literally besieged with requests to release this movie sooner rather than later," he stated.
Check out the pictures below taken from Kendra Wilkinson's sex tape, Kendra Exposed, including a photo of Kendra Wilkinson giving her lucky ex-boyfriend that 'Becky.'