Venus Williams' Bootyful French Open Wardrobe Malfunction: Lacy Dress (Photos)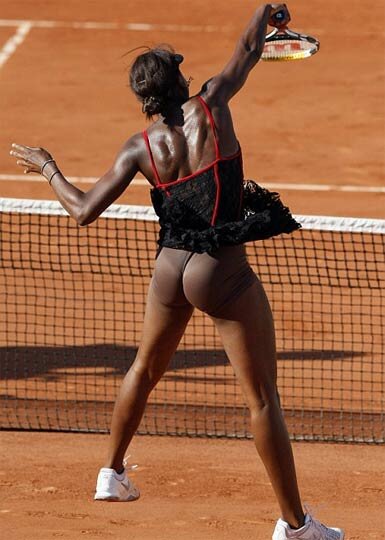 Tennis star Venus Williams, who wore a revealing lacy black and red outfit for the French Open, had a major wardrobe malfunction during the game, somewhat. The outfit looked to be flesh-color underwear and did a good job of showcasing that wonderful ass(et) of hers.

Her choice of outfit for the French Open has caused quit a stir among tennis players and fans. Some are saying that her outfit was inappropriate for such an event, but who really cares from the male point-of-view — and maybe some women?
Who wouldn't want to see Venus' moon? Right?
I personally think it was the highlight of the game. By the way, Venus beat out the competition Patty Schnyder with 6-3.
What are your opinions?
Pictures of Venus Williams' French Open Lacy Dress, Wardrobe Malfunction