Bret Michaels Bounces Back After Stroke, Hospital; Wins Celebrity Apprentice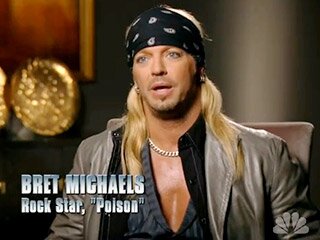 Rocker and reality TV star Bret Micheals, who has been to the very bottom of life's line, has literally bounced back on top over night.

Last month, Michaels was rushed into the hospital after suffering a major brain hemorrhage to be released just two weeks later. One week after the hospital visit that nearly took his life, Michaels suffered a warning stroke before doctors diagnosed him with patent foramen ovale or PFO, a hole in the heart, as reported on HipHopRX.com.
Less than a week later, Michaels appeared at the last board meeting with Donald Trump on the season finale of 'Celebrity Apprentice,' and won. Micheals took home $250,000 to donate to the American Diabetes Assn.
"Lately it seems like me just standing up is risking my life," Michaels joked to Trump, who asked if Michaels was putting his health in jeopardy by appearing at the finale.
Congratulations to Bret Michaels on his victories!