Claudia Schiffer Pulls A Demi Moore: New Naked Pregnant Pictures For Vogue (Photo)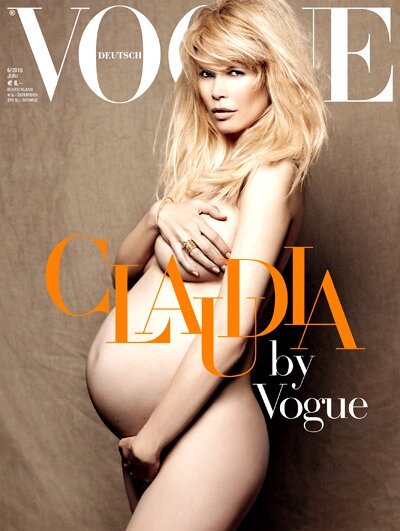 German supermodel Claudia Schiffer, who is about to give birth to her third child, bares all as she graces the June cover of German Vogue magazine in the nude. Claudia posed very similar to Demi Moore's 1991 Vanity Fair cover in where she posed naked when she was 7 months pregnant with her daughter Scout.

Claudia Schiffer, who is due to have her third child "in a matter of days," according to German Vogue, has two other children with movie director Matther Vaughn, Casper, 6, and Clementine, 5.
"There are probably not many other women who have been photographed as often as Claudia. But she has never been seen in such a different way," German Vogue editor Christiane Arp told the AFP.
Fashion designer Karl Lagerfeld photographed the pregnant 39 year old model for the issue of German Vogue that hit newsstands on May 11.
Photo of Claudia Schiffer Nude Pregnant Picture For Vogue