9th Wonder, David Banner To Release Collabo Hip Hop Album 'Death of a Pop Star!'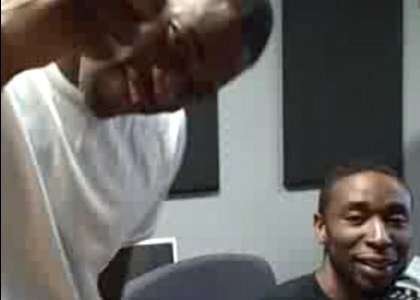 Rap phenoms 9th Wonder and David Banner reveal details about their new collaborative mixtape turned album 'Death of a Pop Star,' as reported on HipHopRX.com back in November.

Rappers/producers David Banner and 9th Wonder are set to release their anticipated collabo album later in the Summer, but for now, the two reveal the concept of the album as well as the current state of Hip-Hop.
Though 'Death of a Pop Star' was originally supposed to be a mixtape, 9th Wonder and David Banner say it evolved into an album due to the two's agreement that today's artists choose style over substance.
"9th Wonder is probably one of the most soulful cats in our generation. 'Death Of A Pop Star' is needed for a balance in the music landscape right now, just like 2 Live Crew and A Tribe Called Quest were once needed at the same time," Banner told AllHipHop.com.
While 9th Wonder and David Banner play a huge role in Hip-Hop as super producers, together they have a healthy resume under their belt and have worked with artists such as Mary Mary, T.I., Lil' Wayne, Jay-Z, Mary J. Blige, Lloyd Banks and Ludacris to name a few.
The two reveal the chemistry is what made them change their minds on releasing 'Death of a Pop Star' as a mixtape. Instead it will be a full length album.
"David Banner and I both share the same views on topics such as manhood, being black in America in present day, and the state of black music in general. David and I hash out a lot of options before we actually do a song. Once we get past all the options, the end result is always clear," 9th said of the album.
9th and Banner think that the album will result in a series of collaboration albums.
"Who knows what concept Death Of A Pop Star may be in the future, next year it might be Lil Wayne and Pete Rock. 9th Wonder and I would still oversee it, but we don't know what it's gonna be," David Banner said. "This concept is bigger than hip-hop music. It shows us that young people do have soul."
'Death of a Pop Star' will be released on David Banner's Big Face Entertainment imprint and is slated to hit stores this summer.